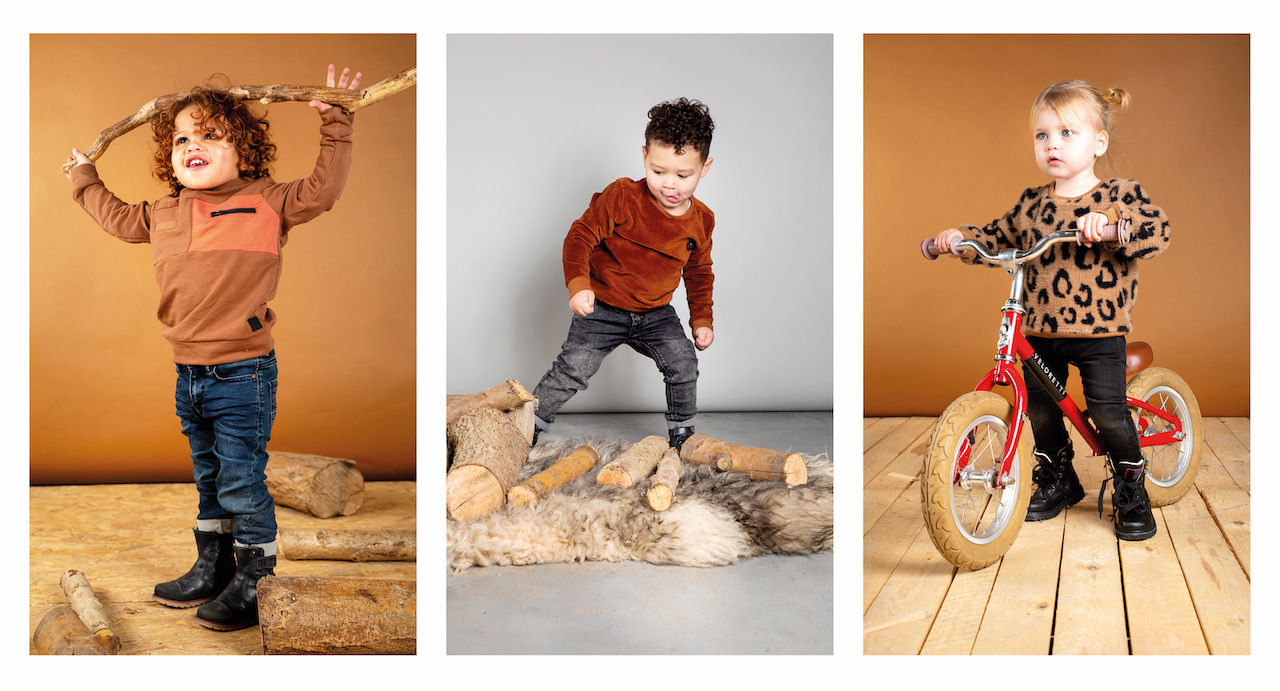 Nieuw merk op de markt: Daily Seven
Hi, I'm new in town! Who I am? The one that makes you smile and cry at the same time. The one you love and sometimes you don't? usually I don't listen to your boring stories and songs. I just wanna play. All day. Every day. From dusk till dawn. I love to explore the world my way.
My name? Daily Seven! 'Newborn' and brand new! Daily Seven is the new fashion label for the brave and beautiful tot en met 6 jaar. Uit de brand family van United Brands. Met Indian Blue Jeans en Rellix als big brother and sister, weet deze nieuwkomer dus wel wat er te koop is in de wereld. Er komen twee collecties, te weten: 'Daily7Kids' en 'Daily7 Newborn'. We trappen af met de Daily7Kids Collection in de maat 74-128 voor winter 2021-22 met twee levermomenten te weten juli en augustus 2021. Prijsniveau tussen €22,99 en €39,99 met een marge van 2.6.
Daily7Kids
De collectie van Daily7Kids bestaat uit een zeer gevarieerde collectie met een Scandinavische cleane twist en een grote diversiteit aan styles en fancy stoffen, zoals mousseline cotton, velours, printed wovens, checks en stripes.Hiermee ben je verzekerd van een unieke look! Warme stoffen en kleuren is hét cozy gevoel dit najaar en dat is kenmerkend voor de collectie. Oversized sweats is de nieuwe must have voor de cool en trendy little folks. Perfect for every mood. Voor de echte kleine trendsetter is de Tie dye in sweat hoody, crewneck, dress en jogpants één van onze favorites dit seizoen. Om de little beauties echt stylish te laten voelen hebben we een velvet Tie dye flared pants en col tee. Ook biedt de collectie enkele stoere jeans in skinny en flared voor €34,99. Wassingen uiteenlopend van Blue naar Grey, allen in een zachte stretchkwaliteit.
This is a green message
Daily7kids Draait om het verschil te maken en de wereld verbeteren. Wij vinden het belangrijk om bewust te zijn van mogelijke effecten op het milieu. Daarom zijn onze Jerseys en french terry gemaakt van biologisch katoen. Green is the new black!
Keywords: Scandinavian twist, Checks, Fancy printed wovens, Tie Dye, mousseline cotton | Key colors: Brick Dust, Brown Sugar, Army, Bordeaux en Navy
Daily7 Newborn
Snuggle up with our new born styles. Onze newborncollectie van 50-74 bestaat vooral uit velvet, badstof en andere zachte structuur kwaliteiten. De compacte collectie is opgebouwd als mix en match voor zowel boys als girls. Cool playsuits in Tie Dye, Mousseline cotton dresses in combinatie met een printed rib legging. Everything is finished with the finest details. Refresh your day to day look with Daily7.
Key colors: Dark Ochre, Misty Rose, Brown, Navy en Sand Mélange
Inkoop via: Daniël Groenenberg, +31630407480 , daniel@daily7kids.com, daily7kids.com